March 31, 2021
The Master of Financial Economics Alumni Association (the "MFEAA") was established in 2007 to enhance alumni engagement and develop the MFE community network. We are pleased to have 5 members on board this year:
---
January 21, 2021
The start date of the Master of Financial Economics program has changed to July 2, 2021 as capital markets and finance internship recruitment seems to move earlier every year. By initiating professional development activities earlier, this new July start date gives students an edge in securing internship opportunities. More details to follow.
---
November 24, 2020
Lindsay Scott (MFE 2008) has received the 2020 Women in Capital Markets (WCM) Rising Star Award. The Rising Stars Award are given to high-performing female professionals who have demonstrated professional excellence and are on the path to becoming future leaders in capital markets.
---
November 16, 2020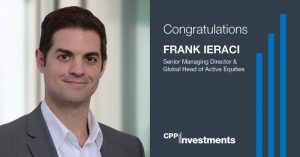 Frank Ieraci (MFE 2005) has been appointed as Senior Managing Director & Global Head of Active Equities, and a member of the Senior Management Team at CPPI.
---
October 1, 2020
Andrew Heald (MFE 2005) has received a 2019 – 2020 CFA Society Toronto Volunteers Award. 
---
August 10, 2020
Danielle Shkiler (MFE 2021) has been selected for the eleventh iteration of National Bank's Women in Financial Markets Internship Program. The award brings with it an offer to begin her career in the Bank's financial markets sector, as well as a $5,000 prize. Danielle will join the Financial Markets rotation program in 2021.
National Bank has been proactive in increasing the representation of women throughout the organization. Remarking that the career advancement of women is a priority at National Bank, Laurent Ferreira, Executive Vice-President and Co-Head of Financial Markets at National Bank, noted that it is unique initiative in the Canadian banking industry, specifically aimed at supporting women in a field where their numbers have typically been low. A mentorship program is also offered, "Our program focuses on personalized support, collaboration and learning to enable participants to flourish and nurture their interest in finance," said National Bank's Denis Girouard, Executive Vice-President and Co-Head of Financial Markets. "We are proud to attract such talented candidates year after year and to make a difference in their career path." (Source)
---