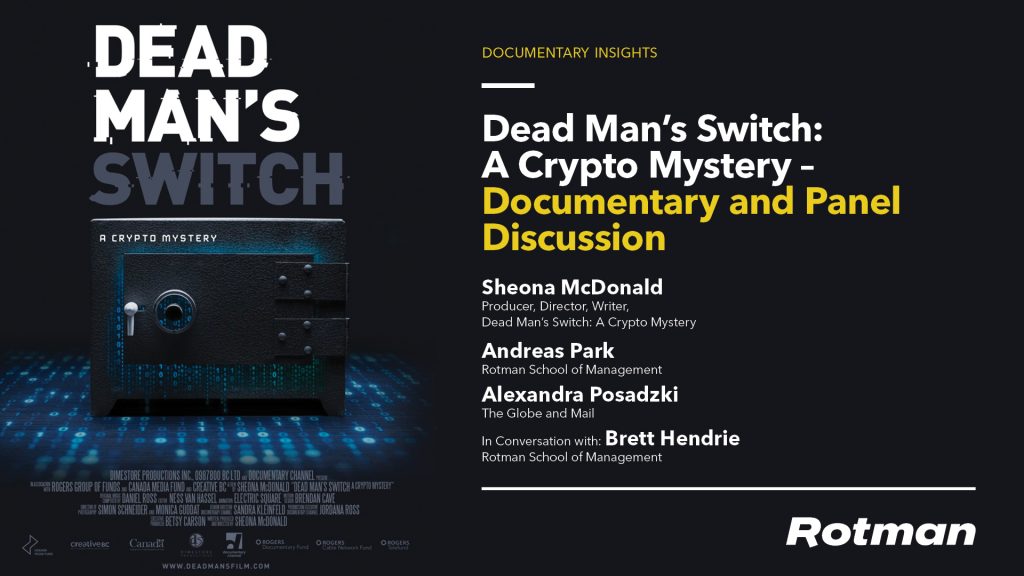 Please note: This event includes a documentary and a panel discussion which you can watch on demand between October 18th and November 1st. On October 18th, you will receive an email with a link to access both the documentary and panel discussion.
Synopsis: Dead Man's Switch: A Crypto Mystery is a feature length documentary that unpacks the mysterious and improbable story of Canadian CEO Gerald Cotten and his failed cryptocurrency exchange QuadrigaCX.
$215 million dollars in cash and cryptocurrency suddenly went missing on December 9th, 2018, when 30-year-old Gerald "Gerry" Cotten, CEO of QuadrigaCX, one of North America's largest cryptocurrency exchanges, died very suddenly in India – or did he? Gerry had kept many secrets, among them the key to the digital wallets that contained all the money – or had he scammed it all?
The announcement of his death immediately sparked a race by journalists, regulators and cryptocurrency enthusiasts alike to discover what truly happened to Gerry and who held the keys to the fortunes of 115,000 QuadrigaCX creditors.
Through interviews with creditors, crypto activists, compliance regulators, independent journalists, financial analysts and friends, filmmaker Sheona McDonald expertly unpacks the story of Gerry's life, death and his business dealings.
Cryptocurrency is rapidly advancing, disrupting financial markets and forcing regulators, investors and major institutions to recalibrate their future plans. Dead Man's Switch is a compelling synthesis of the critical questions and ideas behind cryptocurrency, told through the lens of an incredible story about human-nature, greed, and navigating the wild west of a dark new world.
About Our Speakers:
Sheona McDonald, an award-winning filmmaker, has worked in the Canadian film & television industry as a writer, producer and director, for over two decades. Recent films include Dead Man's Switch: a crypto mystery, Into Light, Candice, A Short Essay on Men and Inside Her Sex. Sheona also directed season two of Emergency Room: Life and Death at VGH for Knowledge Network. Recently, her feature film script, Back By Midnight was optioned by Screen Siren Pictures. Sheona is currently writing her first novel. She lives in Vancouver with her husband and three children.
Alexandra Posadzki covers the telecom industry for the Report on Business. She joined the ROB in August 2017, after spending about three years covering banking and real estate for the Canadian Press. She has a Master of Journalism degree from Ryerson University, an honours B.A. in psychology and literature from York University and has completed the Canadian Securities Course. She previously worked at the Toronto Star, Business News Network, Global News and The Globe's B.C. bureau. Her passion lies in using investigative techniques, including Access to Information requests, to produce enterprise journalism that looks beyond the surface of daily news. She has reported considerably on Canada's burgeoning cryptocurrency industry, including co-writing a series of investigative features on the collapse of Canada's once-largest cryptocurrency exchange, QuadrigaCX.
Andreas Park is a Professor of Finance at the University of Toronto in the Department of Management at University of Toronto at Mississauga, with a cross appointment to the Finance area at Rotman. He has  been a University of Toronto faculty member since 2003. His research covers empirical topics, such as the market impact of maker-taker pricing, dark orders, and high frequency trading, and theoretical topics, such as herd behavior in financial markets and the impact of trading mechanisms. His work has been published at, e.g., Econometrica, the Journal of Finance, and the Journal of Financial and Quantitative Analysis. He has received and has been an affiliate on a number of research grants, including from the ESRC, SSHRC and the GRI. Andreas has served as Co-Director of the Master of Financial Economics program at University of Toronto, and he teaches courses on Market Microstructure, Trading, Investments, Asset Pricing, and Corporate Finance. His current research focuses mostly on impact of high frequency trading and recent market structure chances in Canadian markets. Andreas is currently a member of the Ontario Security Commission's Market Structure Advisory Committee.
Brett Hendrie is Director, Strategic Events at the Rotman School of Management, where he leads the school's thought-leadership events portfolio. His work focuses on bringing the latest management thinking and business insights to wide audiences through digital and live-event programs. Prior to joining Rotman, Brett spent 20 years at Hot Docs, the largest documentary festival and market conference in North America, where he served as Executive Director. At Hot Docs, Brett developed major content and event partnerships with Netflix, Scotiabank, Rogers and CBC. Previously, Brett worked at the Toronto International Film Festival.
Please click here to register.